Why Pilates During Pregnancy Could Benefit Your Mind, Body, and Soul

Why Pilates During Pregnancy Could Benefit Your Mind, Body, and Soul
By Danielle Salgo
Looking for a way to stay in shape, safely, during pregnancy? While prenatal pilates is not a new trend, there is more and more evidence of its benefits for both mom and baby. Additionally, it has recently been discovered that the exercise includes benefits even beyond the physical realm. It seems that it may have been highly under-rated for the past several decades!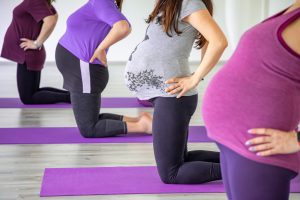 Physical Benefits of Prenatal Pilates
During pregnancy, mama's core is literally stretched and even torn! This can leave her feeling unstable and can even lead to back pain, pelvic pain, urinary incontinence, poor posture, and other conditions like diastasis recti. Luckily, pilates is designed with the core in mind. It's focus on deep core strengthening and breathing exercises is just what the prenatal body needs! Strengthening and stabilizing the core gives mom and baby the support they need, not to mention a strong core will make delivery that much easier.
How about after pregnancy?
Labor is like a marathon, you should be training for it! Women who practice core exercise (like pilates) and endurance training are less likely to have complications on the big day and generally have a faster delivery. Additionally, these women will likely have an easier and quicker recovery on the other side.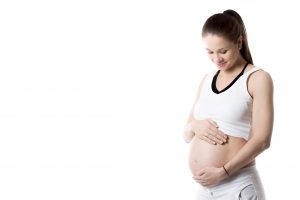 Mental and Wellness Benefits of Prenatal Pilates
As if the physical benefits weren't good enough, current research suggests that prenatal pilates also has non-physical benefits. We all know that pregnancy has non-physical challenges too. Hormonal changes, mood disruptions, stress, social isolation, and dietary difficulties contribute to decreased mental health and wellbeing for many women. Fortunately, pilates has been shown to help in these areas too!  Women report improvements in areas like mood, stress, anxiety, depression, and even social wellbeing after partaking in prenatal pilates.
With all these benefits, pilates may be the ultimate exercise of choice during pregnancy!
Things to Watch Out for During Prenatal Pilates
Most women are safe to continue exercising during their pregnancies, but there are rare cases in which your doctor may instruct you to avoid exercise if you have a pregnancy that is considered "high-risk." Check to make sure you are cleared for exercise before starting pilates.

In the second and third trimester, many women have uncomfortable symptoms when they lie on their backs. Most prenatal pilates programs will take this into account and offer modifications. You shouldn't experience any pain or unusual symptoms during exercise, even while pregnant, so let your doctor know if you do.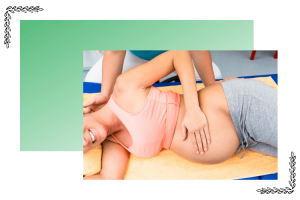 ABOUT THE AUTHOR:
Danielle Salgo is a Doctor of Physical Therapy and a new mom! As she went through her first few months of pregnancy, she became more and more aware of a disconnect between new moms and relevant information on health during pregnancy and after delivery. Danielle shares her knowledge and experience to empower new moms to become active advocates for their own health and fitness! www.thefitnewmom.com
Disclaimer: The views and opinions expressed in this article are those of the authors and do not (necessarily) reflect the views of PregnancyJournal.com. PregnancyJournal.com can in no way whatsoever be held responsible for the content of such views nor can it be held liable for any direct or indirect damage that may arise from such views.