Pelvic Physical Therapy by Trimester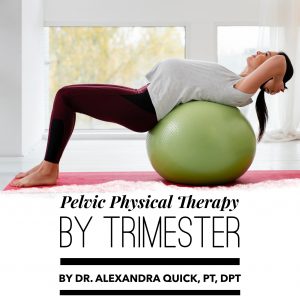 Pelvic Physical Therapy by Trimester
By Dr. Alexandra Quick, PT, DPT
Each phase of motherhood from preconception through the fourth trimester brings physical, mental, and emotional change. This is the reason we refer to this period as matrescence. Think of adolescence, and all of the changes that occur during that period of your life. In the US we are notoriously under-preparing our birthing people for the adjustments necessary to be successful and healthy throughout matrescence, and it is costing us money and lives.
We know that in the US our maternal death rate is among the highest of developed countries. We spend billions of dollars each year preparing people for orthopedic surgeries and rehabilitation, yet we have not established a standard of care for preparation and rehabilitation from childbirth. We also know that cost is one of the largest barriers to women seeking care. Physical therapy is one of the most inexpensive and best-proven ways of managing physical impairments long- term post trauma, and childbirth is definitively a physical trauma.
If we break matrescence down into preconception, first, second, third, and fourth trimesters, we can better manage the changes and expectations during this period of life. It is important to note that every person has their own unique set of needs and these subcategories are meant to guide care rather than to be a set protocol. Some people may need to focus on the basics from the earlier trimesters during late pregnancy due to late initiation of care or injury. This is why an individualized assessment by a qualified pelvic floor physical therapist is imperative. I believe in doing this we will achieve better outcomes, and happier and healthier mothers.
When you're preparing to conceive, the focus of a physical therapy assessment and treatment will start with rehabbing any existing injuries and gathering baseline data, including: a pelvic floor assessment, postural assessment, and establishing healthy breathing and movement patterns to prevent injury.
The first trimester is when our hormones change the most, which can increase joint laxity and stresses with activities that may predispose us to injury during this period. Because of this, we shift to establishing a safe and modifiable exercise routine, continuing with pelvic floor coordination training and relaxation to ward off or minimize pelvic issues during pregnancy.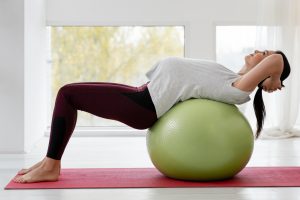 The second trimester is the period of pregnancy that our bodies undergo the most obvious and largest physical changes, which affects our center of gravity and can result in strain injuries. The focus is on preventing injury or strain with activities of daily living, staying active with low impact and light cardio exercise, and learning proper body mechanics to accommodate for the changing load distribution. We also initiate a flexibility routine if you do not already have one, and modify it if you do.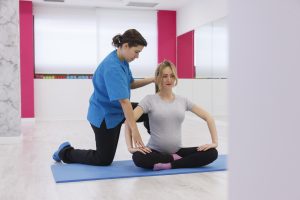 The third trimester is centered around preparing your body and mind for labor, birth, and early postpartum recovery. We continue with stretching and light strengthening of the lower extremities as well as generalized relaxation techniques,
---
vocalization and breathing, and preparing the pelvic floor and perineum. I also include labor preparation and birthing education as a part of my standard third trimester visits. This includes learning about fetal and maternal monitoring, pain management, and equipment options. We involve a birth partner in learning how to support the birthing person, and practice using birthing balls and changing positions to facilitate pelvic mobility. Since most people don't plan for a cesarean, and are underprepared for how to manage post-cesarean once they return home, we also discuss how to get into and out of bed safely, wound or incision care basics, pain management, and ergonomics of the home setup.
As a physical therapist I have worked with hundreds of orthopedic patients, establishing a plan and a set protocol both before and post-surgically to prepare them and their caregivers. We initiate physical therapy care on the day of surgery, knowing that this support vastly improves outcomes and satisfaction. Yet we aren't applying the same level of care and attention to our birthing people. Mothers simply aren't aware that pelvic floor physical therapy is an option for them. The good news is most US states have direct access to physical therapy, meaning you don't need a referral to initiate care. I strongly encourage every birthing person to seek out a pelvic floor physical therapist to augment their prenatal and postpartum care.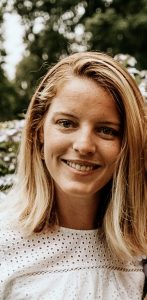 ABOUT THE AUTHOR
Dr. Alexandra Quick, PT, DPT is the owner and founder of Mae Physiotherapy in Portsmouth, Rhode Island. She is a graduate of The University of Rhode Island, and also holds bachelors degrees in Biological Sciences and Spanish. She is an orthopedic and pelvic health physical therapist, and has specialized education in pregnancy rehabilitation and trigger point dry needling. She has special interest in manual therapy, patient empowerment and education, and early mobilization. https://maephysio.com
Disclaimer: The views and opinions expressed in this article are those of the authors and do not (necessarily) reflect the views of PregnancyJournal.com. PregnancyJournal.com can in no way whatsoever be held responsible for the content of such views nor can it be held liable for any direct or indirect damage that may arise from such views.