It's National Infertility Awareness Week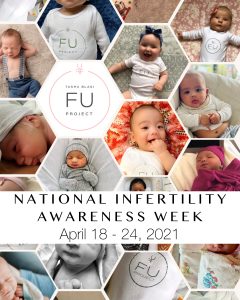 National Infertility Awareness Week
By Tasha Blasi
As we celebrate National Infertility Awareness Week (April 18-24, 2021), Integrative fertility consultant and IVF (in-vitro fertilization) patient advocate, Tasha Blasi, welcomes the arrival of her Community's 100th baby.
"We still can't believe this day has arrived and we are holding our sweet baby girl in our arms," said Ashley, Mama of Fertilitites Unite (FU) Project's 100th Baby. "We can't thank Tasha enough for making our dreams of having a family come true – even when I was having my own doubts that it would ever happen and my doctors were telling me it was not possible."
Tasha founded the Fertilities Unite Project (FU Project) to protect a woman's investment of her time, money, mental health and energy from the draining IVF process while also bringing hope, fun, and laughter to this serious issue. Using her background in the sciences and holistic health, and also collecting data from hundreds of women each year in more than 12 countries, she has come up with a formula to make IVF as successful as possible.
"I did 10 rounds of IVF for my 2 children. That's insane! So, I created the FU Project so that other women on their fertility journey never have to go through what I did to get pregnant," said Tasha. "If I knew then what I know now, I would have never needed ten rounds of IVF. And if I can help women, like Ashley, optimize their treatments and co-collaborate with their doctor, my journey will be well worth it."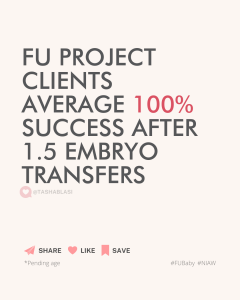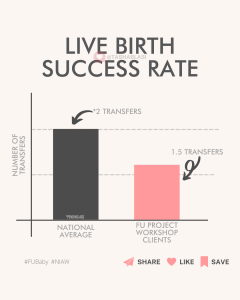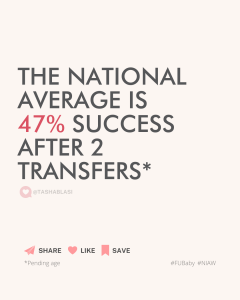 Unlike other fertility coaches or consultants, Tasha is not afraid to question the doctor when she sees a red flag. She serves as a protective second set of eyes on clients' IVF treatment plans, and her goal is to uncover all fertility issues before they invest their time, money, physical and mental health. The hard truth is, fertility clinics are run like any other business. With Tasha's help, her patients co-collaborate with their doctor, or find a new one who will, to customize the best treatment plan.
Tasha's success rates are astonishing with her patients achieving 100% birth rate after an average of 1.5 embryo transfers. Conversely, the US national average success rate is typically around 47%, pending age, after 2 or more embryo transfers before a successful live birth. Tasha credits her clients' pregnancies to her approach.
"I have a secret, the right clinic and treatment plans are only 25% of the equation," Tasha explains. "Making sure that the woman's health and wellness are optimized, and that she has the proper support system helping her throughout the journey, is the other 75%. So, my team of holistic health experts, mindset coaches, and I also teach our clients how to achieve health, wellness, and happiness for themselves today and watch their fertility naturally and dramatically improve."
It is a truly integrative and comprehensive fertility program and she delivers it all with a wicked sense of humor – just look at the name – which is refreshing for anyone during their fertility journey.
Read more about FU Project 100 babies by visiting https://www.tashablasi.com/success or follow @TashaBlasi on Instagram. To listen to Tasha's FU Project podcast to learn more about FU Project's Path to Parenthood, download and listen on Apple iTunes or visit https://www.tashablasi.com/podcast.
About The Fertilitites Unite (FU Project)
The FU Project empowers and educates women in 12 countries and counting before jumping into their fertility journey. Her multifaceted approach includes a team of experts focused on achieving full-term, healthy pregnancies through data collection and analysis of best practices, science-based alternative medicine, mindset, holistic health, emotional support, and spirituality. Tasha works with fertility patients dealing with a multitude of diagnoses, including unexplained infertility, polycystic ovary syndrome (PCOS), endometriosis, male factor, multiple miscarriages, secondary infertility, premature ovarian failure, low ovarian reserve among others. For more information, visit https://www.tashablasi.com.
Disclaimer: The views and opinions expressed in this article are those of the authors and do not (necessarily) reflect the views of PregnancyJournal.com. PregnancyJournal.com can in no way whatsoever be held responsible for the content of such views nor can it be held liable for any direct or indirect damage that may arise from such views.